Amateur Radio Madness - Southern California, USA
In 2015 I took my Technician test at the Red Cross in Rancho Cucamonga. I was then hooked on the Amateur Radio hobby. My original call sign was KK6YQD....
I had been hiking alone every week and wanted a source of communication while hiking and camping in the wilderness. I purchased a Yaesu FT-60 and programmed some local repeaters. I also bought a Kenwood Th-F6A for lightweight backpacking and hiking. It was a relief to know I could connect with a Repeater if my Cell did not have a signal.
In December 2015, I passed my General Exam at Patton Hospital facility. (yes some say I am crazy) , well there is a Amateur Radio Club that meets there. The Citrus Belt Amateur Radio Club.
I applied for my vanity call sign, K6BNE. I joined the Tri-County Amateur Radio Association in 2015. They have monthly meetings in La Verne, CA. I check in to the TCARA Net every Sunday evening on Sunset Ridge Repeater , 449.880.
Extra Exam and my Drama
Now...those of you who know me know that I am a very outdoorsy type, who wears hiking shorts, t-shirts and Hiking boots. But I also like to dress up, sometimes in costumes for various events or holidays.
On my birthday in May in 2016, I took my Extra Class Exam at the Fire Station in Loma Linda.
The Radio Club from the VA Hospital in Loma Linda hosts monthly Ham Exams. It was my birthday so I decided to have a little dramatic fun. I dressed up in a little black dress, doll'd up my hair and makeup, donned my hi-heals...(hi hi)...and walked into the Exam location with a pink purse and a pink calculator. The men sitting at the Exam check-in just looked at me and politely said, "May we help you miss?" The look on their faces showed that they didn't think I was there for the Testing session. I walked up and said, "I'm here for the Amateur Radio Testing?", As I swung my pink purse around, One of them tried to stifle a laugh. Another one snorted and said, "Yeah your here to take your Extra exam I suppose..." not quite in a sarcastic manner but I could see that he was somewhat amused.
"As a matter of fact I am taking my Extra" ... With that they sat up with surprised looks as I handed the first man my Amateur License and Driver License ID. Now let me tell you , the Extra Exam is no joke! I studied and studied and was very very very prepared after going over the book dozens of times and taking practice tests on various Ham Test websites. I sat and took the exam with my trusted pink calculator. I was the only one who showed up for that months exam. The four VE's chatted among themselves and I did find it a little distracting but was afraid to ask them to hush....when I took my Tech and General class exams, it had been completely silent. I forced myself to tune them out and get through my test!
I was so happy and relieved to pass the Extra Exam! I know they were not allowed to tell me what my score was, but I overheard one of them saying I missed 4. I wish I knew what 4 I had missed... LOL!
REPEAT THIS!
In late 2016 I started checking into the 146.385 Keller Peak Repeater's Red Eye Net with Miss Anne, and Keller Peaks morning net with Judy. I love this Repeater as it has many interesting nets! Thursday evening there is an Outdoor Adventure Net which I sometimes monitor. Other repeaters have Trivia Nets , Tech Nets, Swap Nets, Traffic Nets....monitoring them has helped me learn the do's and dont's of Amateur Communications.
I live in the Inland Empire, CA and when I hike in our local mountains I communicate on Keller Peak, Sunset Ridge, Santiago Peak, Table Mountain and Box Springs Repeaters.
San Miguel Island, Channel Islands National Park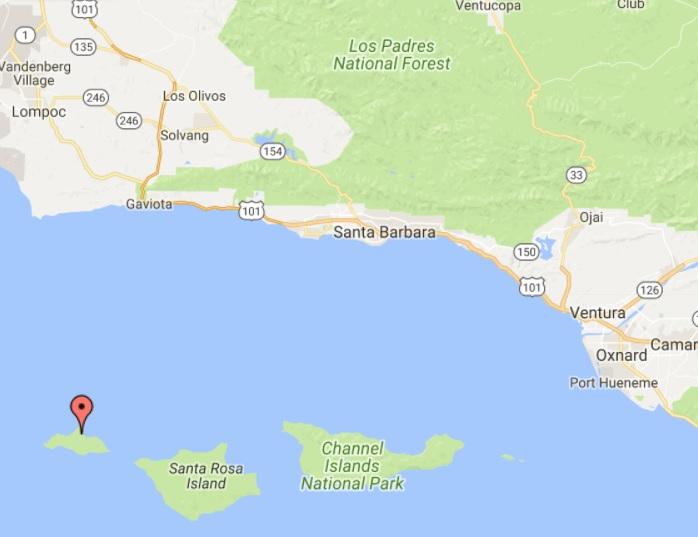 I have been camping several times in the Channel Islands National Park. My first Island was Santa Rosa in 2015. Then I explored Santa Cruz Island and Anacapa Island in 2016. I was able to make radio contact from Santa Rosa Island to Santiago Peak SPARC repeater on June 27, 2017. After 9 amazing trips to the Channel Islands, I booked San Miguel for July 2017. We were the first group of backpackers in over 3 years, as the Navy closed the Island to the public. We were transported by Island Packers boat and dropped off by Skiff craft on to the beach. We had to carry our own water to survive 4 days on this Island. The US Navy owns this island and warned that there were still hidden explosives from WWII and post years when they used the Island for a bombing range....
So the rules were that you had to go on guided hikes on the established trails with the Naturalist Volunteer Ranger. After the crazy 16 mile hike to Point Bennett and back, we saw smoke from a wildfire in Santa Barbara. I used my radio to contact Santiago Peak and was able to relay the Fire info to the people camping on the Island! A few of the campers actually were from Santa Barbara and were relieved to hear some news about the fire.
Getting Ham Gear
There is a Ham Radio Swap Meet in Claremont, CA on the 3rd Saturday of each month from 6am to 11am. I have been to a few of these and picked up some fun treasures for HF which I have yet to tell anyone about. Evenings are spent watching You Tube videos about antennas and mini movies on setting up a station for High Frequency transmission. Ham Club meetings are another way I am learning about Antennas and Amateur Radio stuff. (yes I used the word 'stuff' Hi Hi)
Red Eye Net
Amateur Radio is a fun and technical hobby for all ages. I applaud those who seek to promote this exciting hobby. When the cell phones and other communications are down due to disaster.... the battery operated radio will be there for needed Emergency communications!
The RED EYE net by Miss Anne is on Keller Peak Repeater in So.Cal. every night at 10pm Pacific time on 146.385 +146.2 and everone who is a licensed Amateur Radio Operator is welcome to check in! IRLP and Echolink are supported as well. I have made many great friends on this net and they have events, adventures and Field Day activities!

First Sunday of the month is the RED EYE Breakfast with Miss Anne in Loma Linda, Ca.
Thank you for visiting K6BNE.com and come back again. Updated monthly!
I am a Licensed Hairstylist and work with children in a specialty hair salon for kids.
I am author of "ESCAPE FROM EL MONTE" (young adult novel), Benita Bishop (c) 2004
My hobbies are many....among them, Hiking, Backpacking, Camping, Singing, Painting,Writing, Gardening, Saving Monarch Butterflies, Volunteering with the Forest Service, Dog lover, Zombie destroyer, and occasional Kayaking, Ziplining, swimming, wine-tasting.